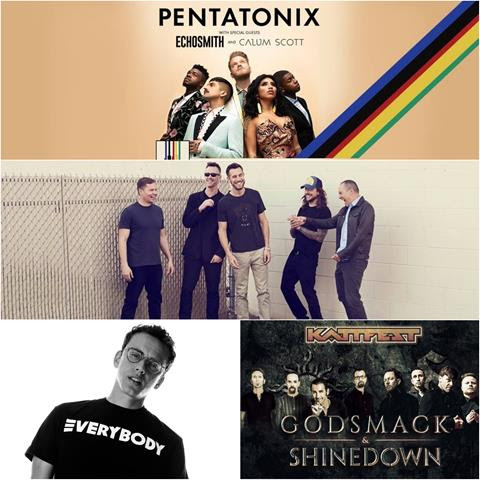 2018 ZOO AMPHITHEATRE CONCERT SEASON
The Zoo Amphitheatre, Oklahoma City's beloved, outdoor concert venue, kicks off its summer season in June and running some great shows through August.
* Tuesday, July 24: Pentatonix
* Wednesday, Aug. 1: Logic
* Thursday, Aug. 4: 311 & The Offspring: Never-Ending Summer Tour
* Friday, Aug. 10: Godsmack
Managed by 3HORSE Productions, LLC, the Zoo Amphitheatre is adjacent to the Oklahoma City Zoo and remains one of Oklahoma City's most enduring and unique attractions. To learn more about the Zoo Amphitheatre or for ticket information:
Oklahoma State Firefighters Museum
Founded in 1967, the Oklahoma StateFirefighters museum is home to many exhibits of the Oklahoma Fire Service, artifacts from the London Fire Brigade, a dozen restored fire trucks – with the oldest dating from the very early 1900's, and artifacts from the 18th Century through the 20th Century.
Summer Fun Runs
Looking for a place to get your run in while having fun? Remington Park has you covered with three new fun runs for the summer.
Blacklight Slide™ is an incredible experience unlike any other. This night event, focused on UV Neon Glowing fun, brings you and your loved ones together for the best night of your lives! At the Blacklight Slide™, you get the chance to go down slides filled with Neon Glow-in-the-Dark water, assuring you and your friends that you will Get Glowed™! During this insanely fun event is a celebration with the best music from the top DJs in the country. You'll get to dance, play, and have the time of your life. When the Blacklight Slide™ is over and you're glowing with excitement, we know for a fact that you'll be counting down the days until the next one.
Conservation is right up our alley! The Oklahoma City Zoo and Botanical Garden's chapter of the American Association of Zoo Keepers (AAZK) along with zoos across the country, will participate in the national Bowling for Rhinos bowl-a-thon, by hosting a bowling event on Saturday, July 28, at Heritage Lanes in Oklahoma City. For the last 24 years, this unique fundraiser has invited Oklahomans of all ages to help save wild rhinos and their habitats while enjoying the fun of a popular pastime, bowling.
For those interested in bowling and/or supporting the event, the ticket options include:
· Rhino Scout – $25 per person for non-bowlers (includes food, a T-shirt and raffle ticket)
· Rhino Hero- $35 per person (includes shoe rental, three games of bowling, food, a T-shirt and raffle tickets)
· Family and Friends Package – $200 per family (includes shoe rentals, three games of bowling, food, a T-shirts and raffle tickets for up to 6 individuals)
To register for Bowling for Rhinos, visitwww.eventbrite.com or call (405) 424-3344.
If you do not wish to bowl but would like to sponsor a team or make donations, visitwww.eventbrite.com or mail a check to "AAZK Bowling for Rhinos," 2101 NE 50th, Oklahoma City, Oklahoma 73111. For more information about Bowling for Rhinos and rhino conservation, please visitwww.aazk.org.
SMO 21! Fermentation,Fungi, and Decomposition
Brewing beer, the fun of fungi, and the surprising importance of decomposition are taking over SMO 21 in August — don't miss this adults-only (21+) night at the museum! Tickets are $21 in advance and $25 on the day-of.
At 8:30 p.m., grab a fermented beverage from the bar and sit back for a panel discussion about fungi and decomposition in modern and pop culture with a brewer; Ryan Baker, features programmer for deadCenter Film; OU Regents' Professor of Chemistry and Biochemistry Robert Cichewicz, Ph.D., principal investigator for OU's Natural Products Discovery Group; and a funeral service professional. All guests must be age 21 or older — a valid ID is required to enter. No refunds will be offered for those who misrepresent their age.
National Day of the Cowboy
Come join in the fun on National Day of the Cowboy! Begin with a larger-than-life performance of Pecos Bill and the Ghost Stampede by Oklahoma Children's Theatre.
Young Missy Cougar-Wildcat has always wished she could live an adventure as big as her home state, and when the roughest, rowdiest cowboy of all enters her world, she quickly finds herself up to her braids in a brand new legend packed with action, laughs, and the world's largest prairie dog. After the play, join Jeffrey Richardson, Curator of Exhibits at Farmington Museum in New Mexico, for a family tour of the Museum's American Cowboy Gallery. Grab your boots and hat and join us to celebrate the American cowboy! Performance begins at 10:30 a.m.; gallery tour begins at 11:30 a.m.