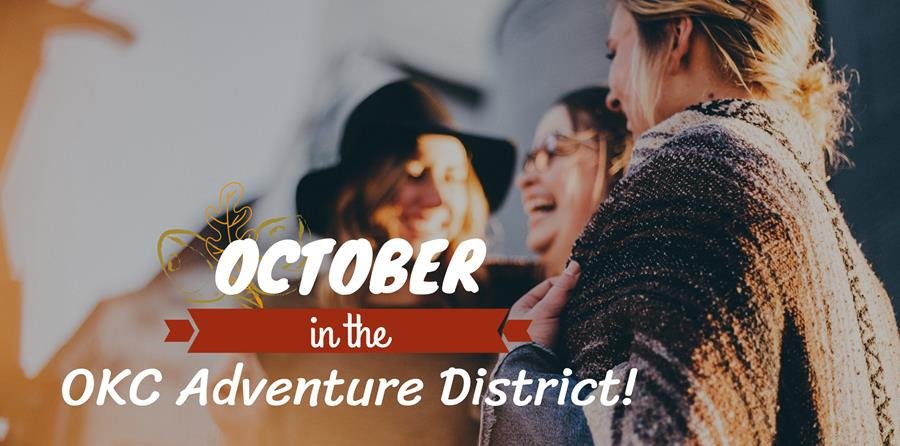 Travel back to a time of classic video games and scary movies — when everything including hair was big, and even colossal pop songs could be a little thrilling. Join SMO for SMO 21: Stranger Science as we flashback to the mid-1980s, when the supernatural could be anywhere, and there was a conspiracy behind every corner.
Head to SMO for the chance to interact with amphibians, try SMO's version of telekinesis, explore carnivorous plants, eat waffles, get slimy with ectoplasm, make LED Christmas light pendants, learn about black holes and wormholes in the newly-updated Kirkpatrick Planetarium, see live science demonstrations, and much more.
All guests must be age 21 or older — a valid ID is required to enter. No refunds will be offered for science-lovers who misrepresent their age.
6:30-10 p.m., Friday, Oct. 19 | 21+ only | No admission after 7:30 p.m. $21 in advance / $25 on the day-of if not sold out Museum cafe and full bar available. No outside food or drink, please.
Cowboy Crossings Opening Weekend
In one of the most significant events to impact the fine art world, the National Cowboy & Western Heritage Museum hosts the Opening Weekend event and sale for two outstanding exhibitions.
The Traditional Cowboy Arts Association (TCAA) showcases the best of saddlemaking, bit and spur making, silversmithing, and rawhide braiding; while the Cowboy Artists of America (CAA) features fine art from members who celebrate the West through painting, drawing, and sculpture.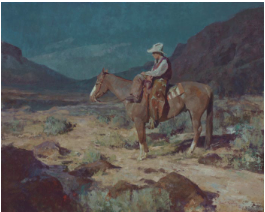 Cowboy Artists of America 53rd Annual Sale & Exhibition
The Cowboy Artists of America are the vanguard of the Western art revival that began in the 1960s, and they continue to set the mark for those who carry on the legacy. Dedicated members, both active and emeritus, continue to fulfill objectives set forth by the founding members more than fifty years ago.
Works in the exhibition perpetuate the memory and culture of the Old West as typified by the late Frederic Remington, Charles Russell, and others, while insuring authentic representations of the life of the West, as it was and is today.
The CAA exhibition will be available for viewing through November 25.
Traditional Cowboy Arts Association 20th Annual Exhibition & Sale.
Throughout the history of Western horsemanship, there has been a special appreciation for the makers of gear who combine superb function with exquisite form. The TCAA exhibition will be available for viewing through January 6, 2019. Reservations requested for most activities (405) 478-2250 ext. 218.
The TCAA exhibition is on view through January 6, 2019 and the CAA exhibition is on view through November 25, 2018. Galleries open to the public Saturday, October 6.
As part of the Zoo's strategic plan outlined in 2010, Sanctuary Asia will create an expansive environment where endangered animals from the Asian continent can thrive while receiving world-class care and where new audiences can be inspired in new ways.
Animals within Sanctuary Asia, like all those within the Oklahoma City Zoo, are safe and free to socialize, eat, play and explore.  The animals are expertly cared for by highly trained staff and revered by more than one million annual guests. Visitors to Sanctuary Asia will be inspired by these magnificent animals, informed about their urgent plight in the wild and be moved to take immediate action to protect them.
Animals: Asian Elephants (adding 3.5 acres to their existing 4.5-acre habitat), red pandas, Indian rhinos, Francois langurs, Komodo dragons, Tanuki (raccoon dog) and cassowary birds.
Restaurant: A two-story building with vast windows will seamlessly unite animal habitats with guest services to create highly visual and memorable experiences. In addition to providing daily food service, the facility is designed for after-hours special events. The restaurant offers views into the elephant, rhino and Komodo dragon habitats.
Two impressive, championship courses are waiting for you at Lincoln Park Golf Course in Oklahoma City. The East course at Lincoln Park is sure to test your skills and is certain to provide an enjoyable round of golf every time you play it.
The West course is the featured golf course at Lincoln Park. At nearly 6600 yards from the black tournament tees, this par-71 course is one you don't want to miss. The par-5 #1 hole is a dogleg left that vaults you into this thoroughly gorgeous and challenging 18-hole masterpiece. Both of these courses are always maintained in tournament condition.
Director of Golf Steve Carson and Superintendent Jim Wood are proud to invite you to Lincoln Park and what you'll discover to be one incredible golfing experience.
The 2018 Oklahoma Classics, a night featuring the top Oklahoma-bred stakes horses worth more than $1,000,000 in purse money, is set for Friday, Oct. 19 at Remington Park. The first race is at 7pm.
A total of eight divisional stakes events will be contested. The $175,000 Classics Cup for older horses at 1-1/16 miles, is the main event on an evening full of recognition for the best racing the state has to offer. Shotgun Kowboy, a two-time winner of the Classics Cup, is expected to defend his title in the race he won in 2017 and in 2015.
The racing is just one of the features of the night with the Oklahoma Classics Arts Festival, presented by Red Earth taking place from 6-10pm. A multitude of artistic works will be on display from all mediums and genres for fans to enjoy. Robin Brooks will have the live music as she entertains throughout the evening on the Clubhouse level.
The Remington Park Casino is always open. Simulcast racing begins daily at 11am. The 2018 Remington Park Thoroughbred Season continues thru Dec. 16. Admission, Parking and Valet Parking are always FREE at Remington Park. See Club Remington for complete details.